Cabernet Sauvignon
2014
93 points, Wine Spectator
"Openly complex and charming, from the initial burst of zesty black cherry and raspberry flavors to the shades of loamy earth, gravel and cedar. Never loses sight of the fruit purity." — James Laube
2013
93 points, Wine Spectator
"Ripe, rich and strong in personality, with sizable tannins that stand up to the intense core and sustain the flavors. Ends with a supple elegance that's striking given the size of the wine." — James Laube
2012
92 points, Wine Spectator
"Firm, dense and chewy, showing extracted flavors of mocha, blackberry currant and licorice that are taut and framed by gutsy tannins. The fruit pushes through in the end, displaying a pleasant savory earthiness." — James Laube
2011
90 points, Wine Spectator
"Rich and well-centered on a core of currant, blackberry and plum flavors, with black licorice, spice, cedar and dusty-earthy notes. Very complete and balanced, ending with cedary, fine-grained tannins." — James Laube
2010
93 points, Wine Spectator
"A charming, graceful expression of Cabernet, smooth-textured and focused on a core of dark berry, cedary oak and dried and light roasted herb. Most impressive for its texture and length. The fine-grained tannins have a nice grip, making this fun to drink now but worthy of short-term cellaring." — James Laube
2009
91 points, Wine Spectator
"This red features subtle aromas of fresh earth, mineral, juicy black cherry and plum. Firm, with ripe, gripping tannins and an underlying sense of elegance and finesse." — James Laube
2008
90 points, Wine Spectator
"Rough-hewn, chewy and dense, yet with its allure. At points chunky and tannic, but also spicy and aromatic, with minty red and dried currant and firm, cedary tannins." — James Laube
The 2008 Red Stitch Cabernet exudes an opulent aroma highlighted by beautiful, ripe black fruit, with notes of white chocolate, cassis and crushed graphite. Deep purple and black, the intense color embodies the velvet tannins and beautiful layers of toasted espresso, powdered cocoa and dark vanilla. Well balanced with great acidity, the rich mid-palate reveals hints of gentle oak which join the entire bouquet as it persists through the finish.
2007
92 points, Wine Spectator
"Smooth, rich, generous and well-proportioned, with a touch of savory herb and tobacco leaf woven into ripe plum and dark berry flavors. Full-bodied, firm and structured, ending with a spicy floral scent that's delicate." — James Laube
The 2007 Red Stitch Cabernet reveals classic aromas of earthy, black fruit, dried fig, tobacco and dried rose petals. The scent of toasted oak is beautifully integrated with roasted almond and warm caramel notes. Deep purple/black in color, the wine brings a velvety mouth-feel that shows great entry with ripe, chewy tannins. The luscious black fruits pair with a note of freshly roasted coffee. Well structured, the finish persists revealing oak, spice and natural acidity.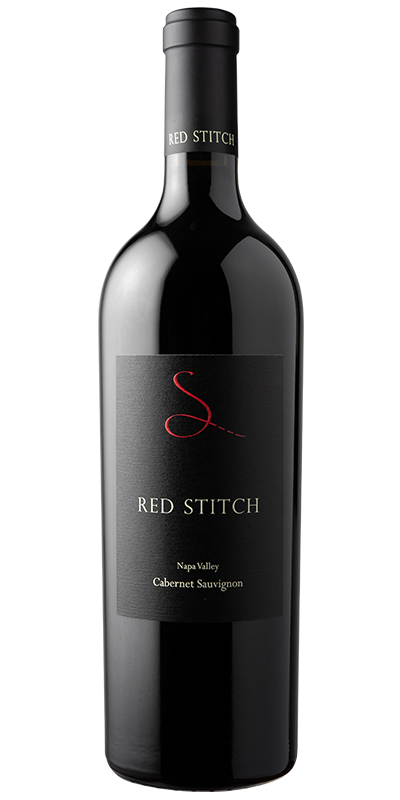 2015 Cabernet Sauvignon Releases Fall 2018